See the first part of this series, with some notes on the full series content.
---
We left the previous article with many gaps in the mail coverage from both the CEO and CFO of the MINAF. A first (and above all) quick solution is to use the MessageTracking logs. As we have already mentioned, MessageTracking is a high-level Exchange log that provides us with some basic data about the message (origin, destination, date and subject) along with some low-level identifiers (of which we will tell something in due course since they will be fundamental in our investigation).
To give you an idea, this is what a MessageTracking log (that we have minimally adapted) looks like: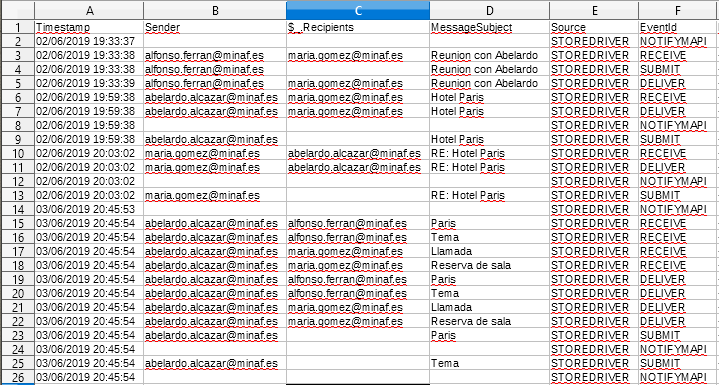 If we open the log and take a quick look at it, we find a wave of messages (about 1000) quite worrisome:
Apparently someone ordered the remote deletion of Abelardo Alcázar's mobile device, something that can be done from Exchange if the terminal is configured correctly (very useful in case of theft or loss, since we do not require a remote management solution for mobile terminals or MDM).
This log agrees with Abelardo Alcazar's statement, coinciding with the dates (remember that in Spain in summer we are at UTC + 2, so 18.47h UTC becomes 20.47h Spanish time).
[Read more…]